When the topic of molds comes up, just hearing the words "black mold" are enough to make you cringe. Most people only know that they don't want it in their home, but they don't know exactly what black mold is, how it occurs or how to get rid of it if they do find it. Another important thing many people don't realize is the dangers of molds can have on your health. It can cause breathing problems, allergies and other serious health problems. It is the last thing you need in your home, so it is important that you understand how to identify black mold and how to remove it.
What is Black Mold Made of?
Simply put, molds are a microscopic living organism. A single spore is so tiny that it cannot be seen by the naked eye, which means that it may be in your home and behind a wall, without you even knowing it. If you can visibly see that you have a problem, it typically means it has been there for a long period of time, because it has time to grow and spread in an area large enough to be visible. It generally grows on porous materials, such as wood, drywall, fabric and carpets; however, it can also grow on non-porous materials such as tile. It needs the right conditions to grow. There has usually been some type of water damage and the area has stayed wet long enough for the spores to grow.
Black Mold on Walls
Removing the problem from a painted or non-painted wall can be quite challenging. If you have visible problem with it growing on the walls, there is a chance it is also growing inside of the walls, which usually means removing the wall. When there is black mold inside of the walls, it often causes allergy-like symptoms, including watery eyes, sneezing and running nose. If anyone in your home has respiratory problems, such as asthma and those with a weakened immune system may have a higher risk of infections from exposure to the mold. Black mold can also cause more serious illness, such as sleep disorders, memory loss, bleeding lungs in infants and sudden infant death syndrome.
What Causes Black Mold on Walls?
Black mold, like most molds, thrive in conditions that are dark, unventilated and damp. The less the spores are disturbed the more they will grow; it can grow for months, even years behind a surface without being noticed. It may have started out in an area, such as behind or underneath appliance, anywhere there are pipes, especially leaking or sweaty pipes and/or around leaky windows. It can also seep in from the ground around your home. High humidity can also cause excess moisture which can develop into spores. Once it has started to grow it can spread on and into the walls.
How to Identify and Where to Look for Black Mold
Before you can start to remove molds from a wall, it is important that you identify all areas that have been contaminated. The most common areas where it is found typically include the basement, bathroom, kitchen garage and bedroom, especially a bedroom that is next to a bathroom or a bedroom next to the laundry room. You should look in areas that have a lot of dampness or moisture, such as the laundry room, basement and kitchen. You should also look at the grout between the bathroom tiles, above ceiling tiles that water stains, in any area where you smell mildew or there is a musty smell and any area that has been subjected to flooding. If you have water stains on the wall, or peeling or bubbling paint, it may be inside of the wall, which means you may need to remove the drywall to look behind it, especially if you smell a musty odor. Identifying black mold is fairly easy, because it is as the name suggests, black in color. It also usually has a slimy appearance.
Wall Materials
When talking about the best way to remove it and the best way to prevent it, it is essential that you understand the answers to your questions depends on what part of the wall it is growing on and what type of material the wall is made of. For example, dealing with it on a concrete brick wall in the basement is much different than how you would deal with mold growing on and/or inside of an area made from drywall.
Drywall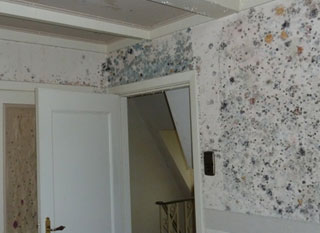 How the problem is handled on drywall depends on the condition of the sheetrock itself. If the material is unpainted or unsealed it is much more porous so it will absorb the spores right through to the back of the surface. In most situations, if you have a problem on the outside of sheetrock, it is probably on the inside as well. If you find it on unsealed sheetrock, the only thing you can do is remove the section that is affected and replace it. It is important to cut out a large enough section of the sheetrock to expose the wood behind it. Molds cannot be removed from insulation, so completely removing and replacing it is necessary.
Tiles and Grout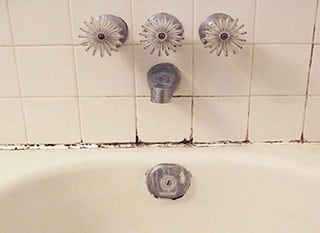 One of the most common places you will find black mold is on the tiles and grout in bathrooms, kitchens and the laundry room. The good news is that tile is a non-porous surface, so it is one of the easiest places for removing it. The grout, if it has been sealed, cleaning will be much easier.If the grout is unsealed, it can be removed with cleaning, but it just requires a little more elbow grease than if it had been sealed. To clean tile and grout:
Use a stiff scrub brush and a household cleaner to thoroughly scrub the mold off of the tiles and grout.
If there are still stains on the grout after cleaning, you can use bleach or hydrogen peroxide to fade the stains. Apply the bleach or peroxide to the grout and let it sit for about 10 minutes.
Another way to clean both the tile and the grout is with baking soda. Mix the baking soda with water to make a paste, use a cloth to spread the paste and the tile and a toothbrush to scrub on the grout.
Regardless of which cleaning solution you choose, make sure to thoroughly rinse the tile and grout with water and dry completely.
Apply a grout sealer to reduce the risk of future growth.
Brick
Exterior brick surfaces benefit from the sunlight, so make sure all brick walls have good exposure. The brick should be kept dry and trim all overgrown plants. If you have a problem on the exterior of your home, it is best to use oxygen bleach as opposed to chlorine bleach. Remember to wear protective clothing, gloves and eyewear when cleaning. Simply mix ½ cup of oxygen bleach with 1-gallon of warm water and mix well. Sponge the mixture onto the brick and use a stiff-bristled brush or push broom. Allow the mixture to sit for 30-minutes, and then rinse with a garden hose.
Concrete and Cement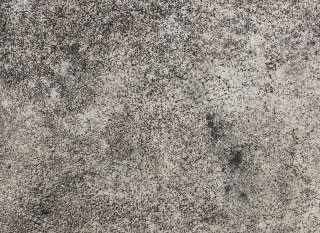 Removing black mold from concrete or cement walls is fairly simple. However, in some situations, it may be difficult to completely remove all traces of it, especially if it has gotten deep into the concrete. In this situation, it may be necessary to apply an encapsulation to help seal in any remaining traces of spores, which will prevent it from growing and spreading. To clean concrete or cement:
Fill a bucket with 1-gallon of warm water and add ½ cup of liquid laundry detergent.
Dip a scrub brush or a push broom into the cleaning solution and scrub the concrete to remove it.
Rinse the concrete wall with a garden hose and allow it to air dry.
Empty the bucket and fill with a mixture of 1-gallon warm water and ¼ cup of bleach.
Apply to the concrete with a sponge or sponge mop and allow to sit for 20-30 minutes.
Rinse completely and allow to air dry.
Plaster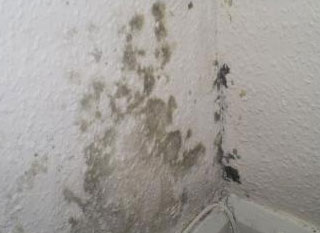 Under the right conditions, plaster can absorb a large amount of water and if the water is allowed to sit, black mold may appear. Cleaning a plaster wall will help to temporarily remove the problem, but to prevent the risk of it returning and/or spreading, it's best to improve the air circulation with a fan or install a dehumidifier. To clean plaster walls:
Use a non-ammonia based soap, mixed with water
Dip a stiff bristle brush or push broom into the cleaning solution and scrub the plaster, using a "W" motion (similar to the motion used while painting).
Using a garden hose for large exterior walls or a sponge for smaller interior walls, thoroughly rinse the wall.
Allow exterior walls to air dry and use a large bath towel to dry interior walls.
Wallpaper
Bathroom wallpaper or an adjoining bedroom, where moisture is combined with the paper and glue (molds love to feed on both) is a prime target for black mold. Fortunately, you can usually remove the problem in a few simple steps:
In a spray bottle, combine equal parts of water and a mild detergent.
Spray the affected area and scrub until the spots are gone.
Allow the surface of the treated area to dry completely. If possible run a fan to help speed up the drying process.
Ventilation is the last and most crucial step, especially in areas where there is continuous moisture. Thoroughly ventilating the room, especially the bathroom after every shower, will help limit growth and spreading of the spores.
If you have thoroughly cleaned the surface of the wallpaper, but still smell a moldy odor, you may need to look behind the wallpaper. Lift a corner, near the floorboard or other out-of-sight area to look behind the wallpaper. Keep in mind that removing the wallpaper can lead to a large release of spores, so before removing all of it, consider hiring a remediation company.
Wood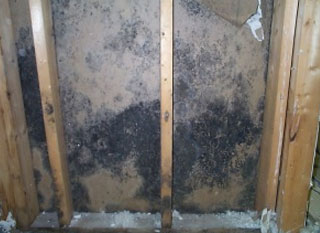 In most situations, wood walls can remain in place after they have been cleaned, but it is important to take the appropriate steps to clean and seal the area. To clean:
Mix 1-gallon of warm water and ½ cup of liquid detergent.
Use a stiff scrub brush to remove the mold.
Rinse well with clean water and allow to air dry. Using a fan will help to speed up the drying time and prevent water from absorbing into the wood.
After it all has been removed from the wood, use a HEPA vacuum in the surrounding area to make sure there aren't any spores lingering in the area.
Use a fungicidal sealant, paint or sealer to seal the surface and prevent future growth.
Cinder Block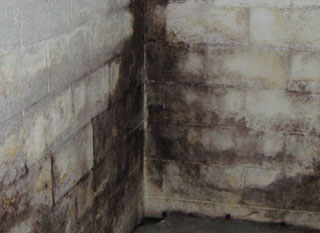 If it is growing on the surface of painted cider block in the basement or cinder block in the crawlspace, simply clean it using a good bathroom cleaner. Once the cinder block has been thoroughly cleaned, repaint cinder block using a paint that has an antimicrobial additive added to the paint. Since cinder block is often used in basements, so it the most important thing to do is to stop the moisture from seeping through the cinder block by using a waterproofing system on the walls.
Painted Walls
It can typically be removed from a painted surface or wall by using a household detergent and warm water.
Move all furniture and decorative items from the area.
Do not proceed if there are bubbles or cracking in the paint or if you smell a moldy odor; it behind the walls.
In a spray bottle, mix 3 parts warm water and 1 part detergent.
Spray the affected area and use a cloth or sponge to scrub.
Fill the spray bottle with clean water and spray to rinse the area. Wipe dry with a towel.
In a clean spray bottle, mix 1 part bleach and 2 parts water. Spray the bleach mixture onto the affected area and let sit for 10 minutes. Rinse with water and thoroughly dry.
Inside Walls
Unfortunately, removing these harmful spores from a wall often includes having to remove it from behind or inside the wall as well. To remove it from inside the walls, you first have to remove the drywall. Discard all of the materials you remove and replace with new to ensure it has not been exposed to any spores. Once the affected outer materials have been removed, you also need to completely remove and discard all insulation in the affected area. If you notice it on the wall studs and they cannot be replaced, make sure to thoroughly scrub the studs, even behind them and encapsulate them to ensure it is gone and/or the spores are contained. Replace the drywall and paint or seal.
If you choose to remove the problem on your own, it is important to wear protective gear, including eyewear, gloves and long sleeves. In many situations, it is best to contact a professional mold remediation company to remove the mould for you. You should contact a professional if it covers an area of the wall that is ten square feet or more, if you suspect a problem inside the walls, unless you are experienced in replacing drywall and insulation, if you suspect problem inside the heating and air ducts or if you have a respiratory disorder.