Do you have black mold in air vents or ducts? Black mold can be found in any environment that provides food for the mold to thrive, including inside walls and inside vents and other duct work. When you experience black mold in air vents cleaning the vents out is the first step, but you will also need to eliminate the source of the mold to eliminate it completely.

What causes black mold in air vents and ducts?
Mold in air ducts most commonly occurs when there is moisture inside the ductwork. As cool air flows through the vents on hot days, the moisture in the air can condense inside the air vent. You can see the same principle at work when you drink an icy beverage, and water beads up on the outside of the glass. When moisture is present, mold can flourish inside vents. The mildew can be introduced into the vents in several ways.
Mold spores are generally air borne, or spread through air. Spores can enter the duct work by simply blowing in from another area of the home, or from outside. The conditions need to be right for the spores to develop, however. A single mould spore can blow inside your home and begin to develop into a colony if the conditions are right. Warmer, moist environments are ideal for mildew spores to grow.
Symptoms of mold in air ducts
Black mold can cause negative health effects if its in your home. It can affect the respiratory system and cause uncomfortable irritation. If you have a black mold infestation in your air vents, you and other residents will likely experience some physical symptoms. Some physical signs to watch for in you and your family include:
Irritated feelings in eyes, nose, and/or throat. Symptoms may get worse when AC is turned on.
Persistent headache whenever you are home, but goes away when you go outside. If anyone in your household is experiencing this symptom, you could have black mold in your HVAC.
Allergy symptoms like runny nose, itchy eyes, or rashes.
Nausea, fatigue, or dizziness whenever you are inside the home.
If you, your family, or anyone that frequents your home is experiencing these symptoms — you could have mold in your HVAC system. Please contact a professional to check the vents.
Also read our in-depth article on: Black mold symptoms.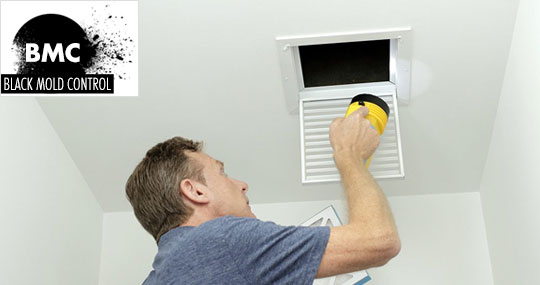 Signs of black mold in air vents
In addition to the health symptoms, there are other signs that AC ducts have become infested. Are you experiencing any of the following signs in your home? You might have black mold in air ducts.
A strong moldy or musty smell in the house. It could be stronger in certain rooms. Also, you could notice the smell more when you turn on the AC.
You can visibly see mold growing in air vents, ducts, or drip pans. Where this is some, there is probably more.
Protect yourself when you remove mold in air vents and ducts
When removing mold from vents, you will need to have some specific tools on hand. A face mask with a HEPA filter is a necessity to avoid the spores entering your nose and mouth. You will also need some bleach, water, and tools to reach the insides of the vents. You will want to make sure that the electric to the furnace or air conditioning system is shut off before beginning your task. A long, flexible mop or sponge is needed to spread the bleach solution inside vents. Allow the ducts to dry thoroughly before turning the system back on.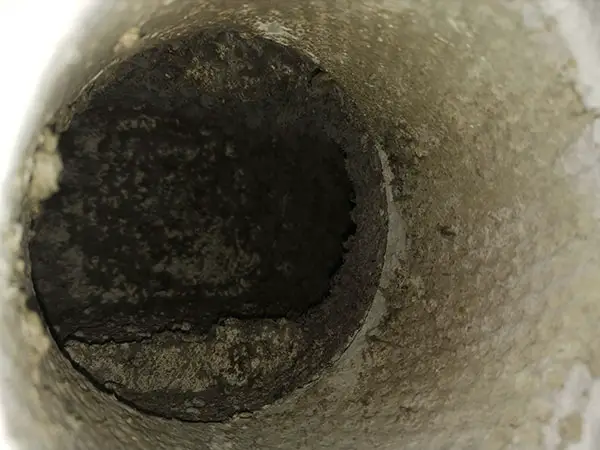 How to remove black mold from air ducts and vents?
Removing mold that has begun growing inside air vents can be a challenge. Some experts recommend using ozone, but the CDC and other agencies have warned that this method of removing mold can be damaging to the respiratory system. Mold can be killed with a mixture of one cup of bleach per gallon of water, but chances are good that you won't be able to reach the mold deep inside the duct work of the home. Instead, you can follow these steps to kill mold in air vents:
Step 1: Have the substance you suspect to be black mold tested to be sure that it is actually this type of fungus. You can avoid a potentially time consuming and costly cleanup with this simple test.
Step 2: Identify the main cause of the mold in your home. Wet wall interiors and damp baseboards can contribute to mold. Identify and treating the main cause of mould will ensure the problem doesn't reoccur.
Step 3: Check the insulation surrounding the ductwork. If the mold in your air vents has extended into the surrounding insulation, you will need to replace this material.
Step 4: Clean the interior of the air vents using a professional cleaner who has been recognized by the NADCA. Since improper removal of mold can be a waste of time, and money, you will want to choose someone who has experience and specialized knowledge in removing fungus.
Currently, the EPA has not recognized any specific benefits to using sealants on air ducts, so this step may not be necessary. If you are planning on working on the ducts yourself, you will need to have some specific tools on hand.
Kill black mold in airconditioning vents using a ozone machine
If you are using an ozone machine to kill mold, you will also want to plan on leaving the home since the ozone can cause respiratory distress. Removing the mold from the vents is important, however, since the long term effects of mold exposure can be dangerous, especially for infants, the elderly and those with compromised immune systems.
How to clean mold in air ducts?
When cleaning and disinfecting ductwork, you will need to have a chemical cleaner. The most budget friendly, and also the most effective, solution to choose is a mixture of chlorine bleach and water. For each gallon of water you use, you will add one cup of bleach. Make sure that you can reach all the duct work or you may not eliminate the spores. It is important to know that you cannot simply remove the mildew using a cloth or mop. All the spores must be killed for the problem to be fully resolved.
In general, do it yourself mold removal in air ducts is a difficult task that may not result in the total eradication of the spores that are present. This is particularly true if you have insulated vents. Any insulated vents that you have will need to be totally replaced in order to kill the mold that is present in the home. You will also need to fully inspect the interior of the furnace or heating system, including the coils, to determine the root cause of the mold contamination.
How to prevent black mold around air vents?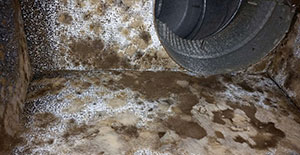 Preventing black mold from developing is the simplest way to ensure you have good air quality inside your home. Small changes, such as using a HEPA filter in the air conditioning system, are recommended to maintain the cleanliness of the vents. Annual maintenance of all parts of your system, including the coils, can also help reduce the risk of mold spores entering the ducts. You will typically need to have a professional inspect and clean your furnace or air conditioning system annually to complete these tasks.
If you live in a humid environment or experience a lot of humidity in the home, then you may want to consider investing in a dehumidifier. The dehumidifier can remove excess moisture from the air, which is needed for mold spores to thrive. Lastly, maintaining cleanliness in the home by using a vacuum with a HEPA filter regularly and limiting the amount of dust in the home can reduce mold spores. If you are renovating and there is a lot of dust, then you can close off vents with plastic sheeting to keep vents clean.
How to prevent mold in HVAC system?
To prevent further growth in your AC, first get all vents properly cleaned out. From there you can do a few things to prevent further growth including:
Regularly changing the air filters.
Insulate ducts to prevent condensation.
Regularly clean the drip pans.
Set up a dehumidifier in moist areas.
Call in mold remediation professionals
Many people have experienced respiratory distress and other physical symptoms in response to black mold growing inside air conditioning vents. If you have been experiencing any symptoms, stop cleaning your vents and ask for professional help. The chemical biocides used in killing mold can also be dangerous, so you may want to plan to leave the home for a day or longer to allow the biocide to air out of the home before returning.